Alienware Aurora mALX Laptop
Alienware recently introduced a top-of-the-line laptop to their family of high-end computers, and we finally got a chance to check it out up-close and personal. Dubbed the Aurora mALX, the computer boasts an enormous 19″ Wide WSXGA+ Screen with a resolution of 1680 x 1050, an AMD Turion 64 Mobile ML44 2.4GHz 800MHz processor and Dual 256MB NVidia GeForce Go 7900 GTX video cards for flat out smoking Windows performance.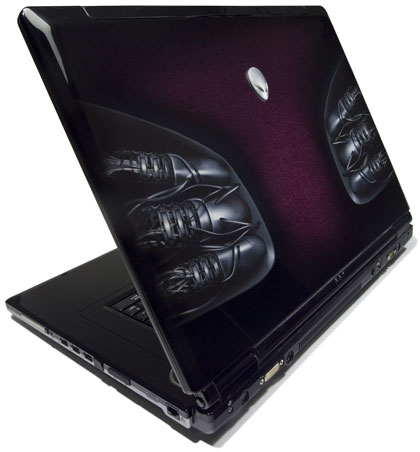 The mALX is one of the largest "laptop" computers we've ever laid our eyes on. The thing is enormous and weighs in at a scale-tipping 15 pounds! Yet instead of it being an unwieldy beast, it got the full-on Alienware "treatment." The aforementioned screen is delicious to behold and the case has been airbrushed in a Giger-esque style with true car-quality paint that modulates its black color to a deep purple through light refraction. This puppy even has five speakers including a sub-woofer. Yes, you heard correctly, a subwoofer is housed underneath its chassis.
The mALX comes with a crispy 1.3 Megapixel video camera built-in for instant online jams with your buddy in Budapest. You can configure it with a 100 GB 7200 RPM hard drive to lay down all your tracks with your favorite DAW and then back up your creations with the 8x Dual Layer DVD-RW, 24x CD-RW optical drive. It's got plenty of connectivity options for your external sound card or MIDI controller including three USB 2.0 ports, a PCMCIA card slot, and a FireWire port. Bluetooth and 802.11 b/g Wi-Fi are also available for wireless connectivity.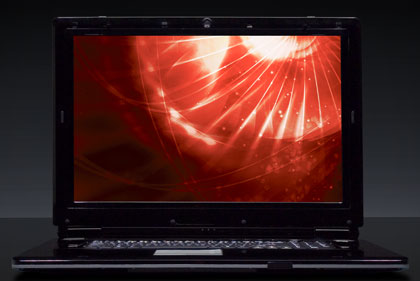 All these features and luxury don't come cheap, but considering you receive Alienware's Premium ALX Customer Service (which is the best in the business), tons of Alienware accessories, including their excellent Laptop Backpack, and computer with flat-out industry leading performance, the $4500 price tag is well-worth the price of admission.
The Future: Dell's acquisition of Alienware put the fear into the company's extraterrestrial faithful. However, if Dell continues their "Laissez Faire" approach to the company and allows Alienware's marketing team access to their deep pockets, then we will continue to see good things from our favorite otherworldly beings.