SKB Cases Enter iPod Market
SKB Cases have entered the iPod market by introducing a waterproof line of protective cases. Dubbed Drypods, the cases were formally introduced yesterday at the Digital Life press preview and received an energetic response from several journalists including our editors.
SKB, known for their robust military and music protective cases, have jumped into the billion dollar iPod accessories market by offering a true waterproof case that meets the stringent Military MIL-STD-810F Immersion test. The cases have been independently certified by CRT Laboratories and can be submerged in up to one meter for 30 minutes, although SKB doesn't recommend dunking your iPod for extended periods of time.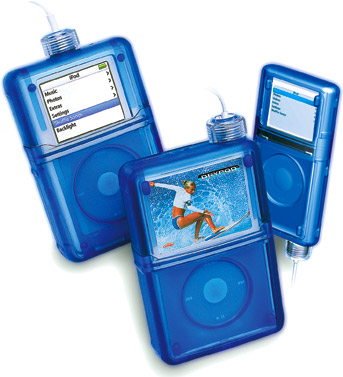 The Drypod family of protective, interactive hardshell waterproof cases have been designed for the iPod Nano, iPod with Color Display, and iPod with Video. The excellent flex-pad technology allows for the manipulation of the iPod click wheel right through the case. A specially-designed compression fitting completes the watertight seal for the headphone. The Drypod comes with a flexible neoprene arm band, comfort-adjust lanyard and stainless steel belt clip.
Jerry Andreas, Senior Vice President Music Division, enthusiastically showcased the iPod Video case, the Nano case is still in the manufacturing process, to us. "It was important to SKB to enter the crowded market with a product that would standout in engineering, functionality and toughness," Andreas relfected. Looks like they nailed it!
The Drypods are warranted against defects in workmanship and materials "forever" and retail for $45.00US