iZotope Licenses Multiband Compressor To Adobe
Izotope has licensed its multiband compressor technology to Adobe for their audio application, Adobe Audition 2.0.
The Adobe Multiband Compressor is now available as a standard feature in Adobe Audition 2.0, an integrated audio recording, mixing, editing and mastering application.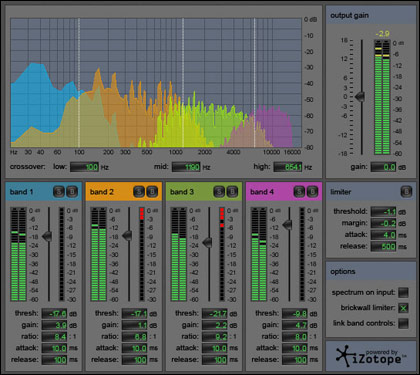 "iZotope's DSP compressor technology has been instrumental in our improvements in Audition 2.0," said Hart Shafer, senior product manager at Adobe.
The Adobe Multiband Compressor features iZotope signal processing and offers four-band dynamics, a multi-mode limiter and an output gain stage. Full control over all parameters as well as a number of presets make dialing in the desired sound or effect quick and easy. Its interface features a unique multiband spectral display, level meters and gain reduction meters giving the user instant feedback of ongoing processing. Its processing algorithms are optimized for low latency, real-time use while full parameter automation adds to its flexibility.