IK Multimedia Announces StealthPlug – Guitar Amp/SoundCard Cable
IK Multimedia announced the StealthPlug, a cable USB audio card designed specifically for guitarists. StealthPlug looks like a copperhead snake and provides an easy solution to plug any guitar into a computer. Boxed with virtual guitar amp and FX processing software of AmpliTube Live and AmpliTube LE, the StealthPlug is both an audio card and a virtual amp with effects, for live play and recording.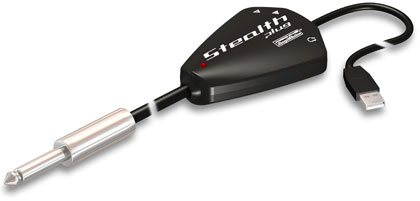 The complete mobile solution for playing, recording and practicing live anywhere! The StealthPlug is so compact that guitarists can jam anywhere with a laptop or use it within their preferred sequencer anywhere in their home studio. The combination of StealthPlug with AmpliTube LIVE/LE software makes a complete portable guitar amp and effects modeling solution, both as a stand-alone application and as a plug-in, for any Mac/PC laptop, desktop or rack computer. It also gives Native Instrument's Guitar Rig 2 some competition.
AmpliTube Live and LE allow you to combine 3 different Preamp models and related EQs with three accurately emulated cabinets, so you can precisely craft a wide palette of guitar sounds ranging from clean, to crunch, to lead. Up to 128 fully customizable presets are available and also a chromatic tuner is included, to stay in tune under any conditions. Guitarists can record their guitar tracks with AmpliTube LE, fully integrating it into their preferred sequencer as a plug-in for every format (RTAS, HTDM, VST, DX, AU).
StealthPlug Features:
Controls:
• Activity LED
• Volume UP/DOWN buttons
• USB bus powered
Connections:
• Ultra-low latency USB
• Hi-quality direct Guitar IN
• Headphone/Amp/Powered Speaker OUT
• 44Khz-16bit
• Low latency ASIO and CoreAudio drivers
• Headphone/Amp/Powered Speaker OUT
AmpliTube LIVE and LE Features:
• 3 AMP models
• 3 CABINET models
• 4 effects models:
— Wah-Wah
— Overdrive
— Analog Delay
— Spring Reverb
MIDI Controllable features:
• Volume
• Wah-Wah
• Preset up/down
Other Features:
• Built-in Tuner
• Up to 128 Presets included
Minimum System Requirements: Apple 866MHz Power Macintosh G4, with 512MB of RAM, Mac OS X 10.3 or later, 1024×768 screen thousands of colors. Windows Pentium III 1GHz/Athlon XP 1.33GHz with 256MB of RAM, Windows XP, 1024×768 screen thousands of colors.
StealthPlug will be available sometime this summer. A price has not been announced. For more information hit IK Multimedia StealthPlug