TestDrive: Native Instruments Reaktor 5
For many musicians who have been composing electronic music for several years, one thing is obvious, more than ever, many "new" songs sound exactly alike. To get off the virtual synth preset train, imaginative writers are turning to sound design programs to distinguish themselves from the pack. Native Instruments' Reaktor, now in its fifth incarnation, has been around for almost ten years, and has built a fervent and devoted following among those who are not content to take the easy way out. Native Instruments has now rewarded the faithful, version 5 is the best Reaktor ever.
Version 5 brings significant new advances to the program and allows the user to get even more insanely deep into the programming of Reaktor's dynamic sound engine. Reaktor still has that Mr. Everest learning curve, but with patience you can create sounds you never thought possible. Native Instruments' competition, such as Kyma and MetaSynth, may offer a broader array of sonic power, but can't be had for Reaktor's $450 price point.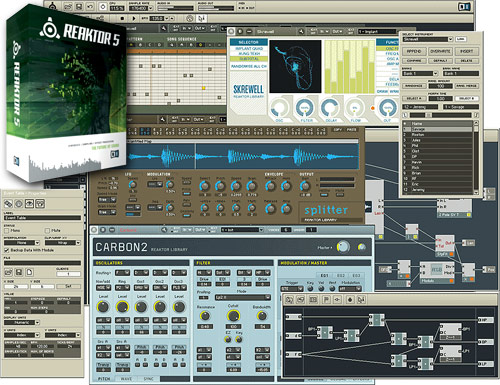 Reaktor 5 builds on the modular sound creation foundation of previous versions. The open architecture of Reaktor is what completely scares the living daylights out of most users who are new to the program, as well as the nomenclature. But fear not, my friends, it's not as hard as you think and the unrestricted approach of the program works brilliantly with today's methodology of composing on a computer. So let's discuss Reaktor's hierarchy. Your overall project is known as an Ensemble. The Ensemble is broken into two distinct parts, Structure and Panel. Think of this as building the house and then decorating the rooms. Thus, Structure is where you build via the instruments and other sound generating modules, and then you decorate with the knobs and controls of the Panel. You dig? OK, now comes the fun part…
Continue reading the entire review: Native Instruments Reaktor 5 Review