ILIO Ships ETHNO TECHNO S.A.G.E. Xpander for Spectrasonics Stylus RMX
ILIO is proud to announce the release of the first in a series of four S.A.G.E. Xpanders for Stylus RMX. Ethno Techno comes with the complete groove collection of ILIO's successful "Groove Control activated" sample library of the same name, plus bonus grooves, and special Stylus RMX Multi patches that allow more flexibility than ever using Spectrasonics integrated S.A.G.E. technology.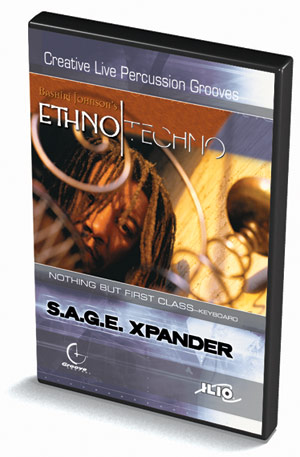 Bashiri Johnson (Whitney Houston, Miles Davis, Madonna, Saturday Night Live) applies his amazing talent for feel and sonic discovery to this entirely original groove library. Ethno Techno features rare instruments and unheard of rhythms and textures. From broad and spacious ambient explorations to radical heart-pounding beats, all have a unique organic flavor that sound great on their own, or as added spice to grooves from any of the other S.A.G.E. Xpander titles from ILIO or Spectrasonics. The sounds are organic, metallic, deep and glassy. Some were created by radically conceived, hand-welded instruments, others from more traditional skins and sticks. All of them were played live, some preserved, some liquefied, to create an immense amalgam of earthy and industrial beats. Ethno Techno was produced, mixed and remixed by Eric Persing.
Groove Control is the exclusive, revolutionary method of sound development from Spectrasonics and ILIO that allows real-time tempo, feel, pitch, and mix control over grooves from selected titles. It's also a key component of Spectrasonics Stylus RMX and the S.A.G.E. Xpanders.
Like every S.A.G.E. Xpander, Ethno Techno retails for $99. All of ILIO's other S.A.G.E. Xpanders, Skippy's Big Bad Beats, Skippy's Noizbox, and Stark Raving Beats, are now shipping.