New CME VX Controllers Announced
After raising eyebrows at the January NAMM show, CME has officially announced the VX Series Keyboard Controllers. These powerful and flexible controllers are the first of their kind to include DAW integration features like motorized 60mm faders and a modular expansion bay. It's also the first keyboard with a multi-function expansion slot. As the first keyboard with PadStyle intelligent MIDI songs and styles in the world, it is available to update via USB. It's also the first keyboard with unique Game mode, Multi-scale and U-CTRL function in the world.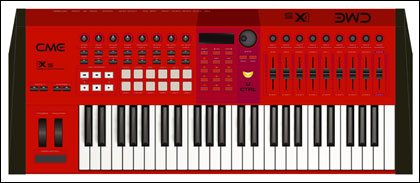 The VX series Keyboard Controllers are designed to provide the ultimate in control for the demanding lives of todays musicians. A solid, all-aluminum chassis make these units extremely durable and sizes from 49 velocity-sensitive semi-weighted keys to 88 professional graded hammer action weighted keys make them ideal for studio, stage, or mobile use.
"Once again CME has set a new standard in controller keyboards by adding never before seen features at price points within reach of everyone," states Athan Billias, Director of Marketing for Technology Products at Yamaha (CME is distributed by the Yamaha Corporation of America). "The addition of USB audio I/O and motorized faders make these not just MIDI controllers, but the center of a computer based home studio."
The VX Series feature 64 different types of programmable controllers including motorized faders, knobs, trigger pads, a ribbon controller, buttons, pitch bend and modulation wheel, transport controls, pedals, and a breath controller. These flexible keyboards have an amazing array of uses such as controlling a DAW and virtual instruments in the studio, triggering patterns and controlling sound rigs on stage, and recording audio into a laptop while on the go.
The VX Series include a built-in USB audio and MIDI interface, eliminating the need for an extra audio interface when used for computer recording. The VX internal memory can hold program data as well as PadStyle MIDI songs and patterns, complete with loop variation and chord change, which can be triggered from the units onboard pads. The VX's built-in expansion slot allows for expanding your VX with current and planed modules such as a FireWire audio interface, a sound module with sampling function, an analog synthesizer module, and a digital mixing console module.
Highlights:
– Built-in 32bit CPU
– Built-in USB Audio and MIDI interface
– Multi-function expansion bay
– Graded hammer-action weighted (VX8) or semi-weighted keyboard (VX5/6/7)
– Initial and after touch, velocity sensitive keyboard
– PadStyle MIDI songs and patterns
– Multi-scale mode for ethnic music
– U-CTRL function for easy software integration
– 9 60mm motorized faders
– 12 programmable velocity sensitive trigger pads
– 8 knob controllers (potentiometer)
– 9 knob controllers (endless encoder)
– 1 ribbon controller
– 1 pitch bend and modulation wheel
– 27 function and number buttons
– Transport controls
– 1 data entry encoder
– Music software control templates with user bank memories
– 2 x 16 characters LCD display
– Firmware upgradeable via USB
– 4 MIDI out, 1 MIDI in
– 2 universal pedal connectors, full compatible with switch and expression pedal
– Breath controller input, compatible with YAMAHA BC3
– 2 mic/line input with gain control
– 2 line output
– 2 headphone outputs with volume control
– Plug-and-play USB audio and MIDI on Windows XP and MAC OSX
– USB hub, USB bus-powered
No Prices have been announced. For more info hit: CME MIDI Controllers