M-Audio Launches Sputnik
M-Audio has announced the release of the Sputnik large-diaphragm studio tube condenser microphone. Based on classic vacuum tube design principles, this multi-pattern, large diaphragm studio condenser claims to deliver the lush, classic sound that is normally associated with rare and expensive vintage mics.
The M-Audio engineering team conducted exhaustive research into signature microphones examining what gives the world's best high-end studio condensers their signature qualities. They attempted to harness the best characteristics of classic vacuum tube designs into a single world-class mic with M-Audio's economical pricing.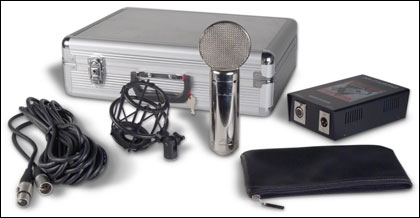 When designing the Sputnik mic's capsule, M-Audio worked closely with top L.A. recording engineers. (Why just LA?? –Ed.) In final side-by-side listening tests, these pros put it up against some of the world's finest vintage mics costing many times more. In particular, many observed that Sputnik exhibited the coveted low and low-mid qualities of the Neumann U47 and the upper-mids and highs of the AKG C12 – making it ideal for faithfully recording a wide range of sources including both male and female vocals. M-Audio claims that the engineers agreed: Sputnik performed flawlessly for the most critical recording situations.
Sputnik's combination of military-grade vacuum tube, ultra-sensitive 3-micron evaporated gold Mylar diaphragm, solid brass construction, and selectable cardioid, omni and figure-8 polar patterns makes it ideal for a wide variety of voices, instruments, and applications. The Sputnik mic circuitry is designed around a 6205M vacuum tube that operates at high voltages, allowing an enormous dynamic range, but with less heat dissipation than other designs. This means, in part, that users can easily hang this mic upside down or orient it upright without having to worry about overheating the capsule.
M-Audio also mounted the tube itself upside down to facilitate shorter connections that, in turn, make for more controlled impedance and less stray capacitance – a design trait shared by German mics like the revered Telefunken 251. The Sputnik also employs a socketless design eliminating the potential for impedance mismatch, signal deterioration and contact corrosion.
Sputnik's Class A amplifier circuit is an all-discrete transconductance design based on thermionic studies by researchers at Harvard and the American Institute of Physics. The amp uses a classic cascade circuit to increase the gain-bandwidth product and eliminate the effects of parasitic capacitances, giving the system a wide frequency response.
Where many microphones cut corners with a metallized plastic backplate, the Sputnik features a precision-machined, solid brass backplate that yields much greater crucial rigidity, precise tolerances and faithful sonic reproduction. The Sputnik also boasts a dual-backplate design similar to the one that lends the AKG C12 its trademark open, airy quality. In addition, M-Audio tunes the backplate for optimal on- and off-axis frequency and pickup response, and pattern symmetry.
The Sputnik's power supply features a sophisticated circuit designed to ensure optimal performance of the mic and audio signal path. It also features a voltage ramp-up when powered on in order to further extend tube life. As an added bonus, an automatic load-sensing circuit compensates for varying transmission line impedances, allowing users to run cables as long as 200 feet.
The Sputnik mic is manufactured with a close tolerance of ±1.5dB across the entire frequency range. That means that any two or more Sputnik mics purchased at any time qualify as a matched set for stereo recording.
The Sputnik's frequency response is 20Hz – 20kHz ±1.5dB; the sensitivity is 30mV/Pa (-30.5dBV) and the max. SPL at 0.5% THD is 132dB (or 142dB with the 10dB pad). It also features a low-frequency roll-off and multiple pick-up patterns (cardioid, omni, figure-8). Sputnik includes a professional shockmount, dedicated power supply, 7-pin mic cable, grounded IEC power supply and a custom flight case.
Sputnik is now shipping and carries an MSRP of $699.95.