BinkyToy, The Ghetto Serato
MsPinky's BinkyToy allows DJs to play digital audio files (.WAV, .AIFF, and .MP3) using the MsPinky vinyl records and standard DJ turntables. The physical location stamps on the vinyl are used by BinkyToy to cue up your file and play it just as if it were a track recorded on vinyl. Do needle-drop cueing and scratching just as you're accustomed to with regular vinyl records – or switch into Pitch Lock Mode to use your turntables to beat-match tracks without changing the pitch. Instead of breaking your back to carry all that heavy vinyl around, all your music is conveniently stored on the hard drive of your computer. Use iTunes alongside BinkyToy to efficiently organize your music collection and search for the tracks you want to play using BinkyToy. Once you've found the tracks you want in iTunes, just drag-and-drop them straight into BinkyToy and spin them like vinyl. Use your favorite MIDI Controller to adjust any slider control in the application.
BinkyToy has two waveform displays for each file in a session. The smaller of the waveform displays shows a condensed view of the whole file. The larger waveform display shows a zoomed-in view of the track which scrolls automatically as the track plays.
The pleasure of using BinkyToy is further enhanced by the ability to color coordinate. Use the built-in Color Picker to choose from millions of colors for all major graphical features of the program. Below is the main screen view of BinkyToy, showing just three of the millions of different color schemes you can set as your theme.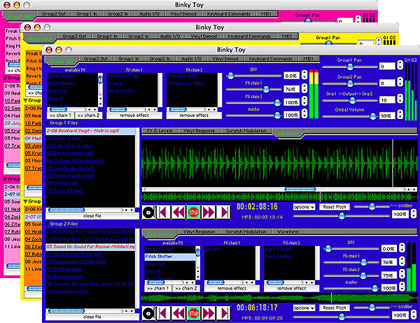 The current version of BinkyToy includes 12 very cool and easy-to-use Baby Talk FX real-time processors which can be patched together in series and in parallel configurations. Different Baby Talk FX configurations can be applied to each file individually, as well as to the output mix for each turntable, and any Baby Talk FX effects configuration can be saved to disc for instant recall and re-patching. The FX currently included are Pitch Shifter, Ring Modulation, Hi-Density Reverb, Flanger, Frequency Shifter (based on Hilbert Transform), Echo/Delay, Backshifter (plays overlapping segments backwards and shifted by different pitch values), Parametric EQ, FFT Vocoder, Compressor/Gate, Wah-Wah, and Sample Looper. Each effect has its own control window which is uniquely colored so that you can easily find it on the screen. Mixes can be recorded to disc, and set lists can be saved and instantly recalled.The current version of the BinkyToy is for Mac OS9 and OSX only.
BinkyToy retails for $99 including 4 records, Maxi-Patch, Binky Toy, Pinky Pluggo, the SDK, Max/MSP Objects and Patches, and free upgrades.